Berwyn Wildcamp Kit
I am heading over to Wales this evening for a one night wild camp. I'll be camping near to Pistyll Rhaeadr with Dexter and my Dad. I was hoping to make this a very light weight wild camp however that doesn't seem to have gone to plan.
Here is most of the kit I am taking with me.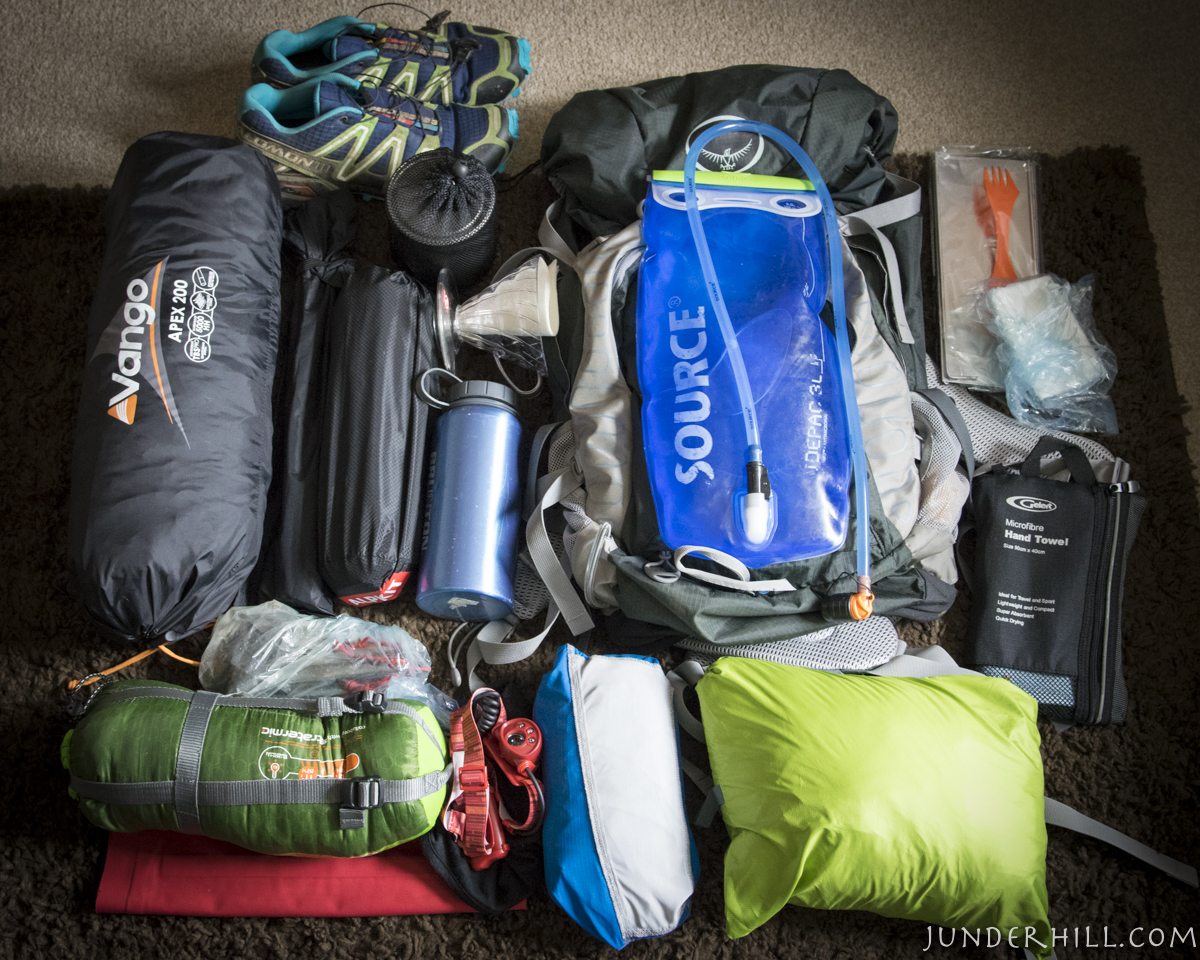 Missing from the photo is my Nikon DSLR, Manfrotto Tripod and a few of Dexter's things.
I am a massive fan of Alpkit equipment. I have with me a Numo Roll mat, Kraku Stove, MytiMug, Gamma Head torch and some 'Y' aluminium pegs. All great kit, that I can't recommend enough.
On this occasion I'm taking a Vango Apex 200 tent. Ideally in these conditions I would just take a bivvy bag however I'm not confident that Dexter won't try to wonder off in the night or chew through his lead so having the tent gives me that extra confidence that he'll stay safe.
For my sleeping bag I have a very cheap but very small and light Decathlon synthetic bag. (Shown bottom left of the photo above). I believe it was about £25 5 or so years ago. It packs up even smaller than shown and is more than half the size and weight of my Snugpack Elite bag. It is however only warmer enough if the temperature stays above 15 degrees or so.
The Kraku Stove with the MytiMug is a great combination, as with a small gas cylinder everything fits within the mug including a few tea bags, making a great brew kit! Along with my stove, I also have a Hario V60 to brew coffee in the morning. There's just no excuse for instant coffee!
Clothing wise I'm just taking the shorts and shirt I'm wearing along with a Rab Spark jacket in case the forecasted storms appear, and a Rab Inferno Hoodie in case it gets cold over night.
I'm taking just over 2 litres of water with me in a Source Widepac 3L this will be plenty for both walk in/out as well as a few mugs of coffee in the morning. The bottle of red wine inside the aluminium drinks bottle should keep me going too!
I can just about cram all of this into my Osprey Stratos 36 but it is certainly heavier than I was hoping!
There'll be photos and some reviews to follow so stay tuned!